More than 200 times the concentration of CO2 in the atmosphere (just over 400 ppm)  … and we're worried about the puny amount that humans emit? – Also see video
__________
Science Alert's headline reads "Divers Discover a Magical Bubbling Underwater Spring on The Ocean Floor."
Really? Magical Bubbling Underwater Spring? I don't know much about Science Alert, so I don't know whether they're trying to downplay this finding or not.
However, a press release from the University of Texas used a much more honest headline: "Deep Diving Scientists Discover Bubbling CO2 Hotspot."
The amazing bubbling location, which geoscientist Bayani Cardenas captured on video, is not a climate change nightmare. It is linked to a nearby volcano that vents out the gases through cracks in the ocean floor, and has probably been doing so for decades or even millennia.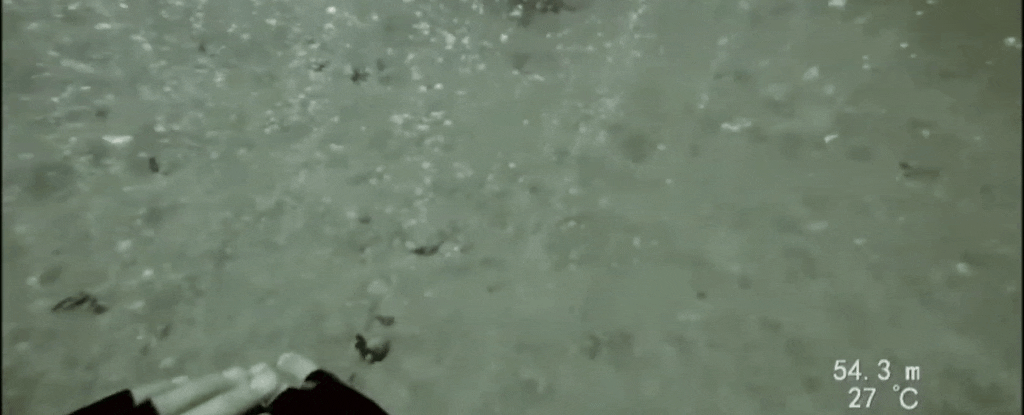 When Cardenas, a professor at the University of Texas at Austin Jackson School of Geosciences, went diving off the coastline of the Calumpan Peninsula in the Philippines, he and his coauthors found the ocean floor bubbling like champagne, pumping out vast amounts of carbon dioxide.
They dove about 60 meters (200 feet) down in "Soda Springs", a high CO2 hotspot, where they measured CO2 concentrations from 60,000 ppm to as high as 95,000 ppm, more than 200 times the concentration of CO2 in the atmosphere (of which manmade CO2 is an extremely tiny percentage). The scientists traced the CO2 back to cracks in the ocean floor venting gasses from an underwater volcano.
The CO2 levels fall quickly away from the seeps as the gas is diluted in the ocean, but the gas still creates an elevated CO2 environment along the rest of the coastline of the Calumpan Peninsula, with levels in the 400 to 600 ppm range.
These high CO2 environments are actually close to thriving reefs, said Cardenas. "How does it work?"
Let me say it again: More than 200 times the concentration of manmade CO2 in the atmosphere (just over 400 ppm) … and we're worried about the puny amount that humans emit?
And when your remember that there are more than three million underwater volcanoes, and that they could all be pumping out similar amounts of CO2, well, you get my drift…
Press release from the University of Texas on 22 Jan 2020:
https://news.utexas.edu/2020/01/22/deep-diving-scientists-discover-bubbling-co2-hotspot/
Science Alert article:
https://www.sciencealert.com/a-magical-bubbling-underwater-spring-is-carbon-dioxide-seeping-through-the-ocean-floor
If for some reason the above video doesn't play, you can also see it here:
https://www.youtube.com/watch?v=HXHLMiWPR5s
Thanks to Laurel for this info